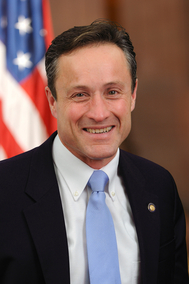 Peter D. Lopez - Assembly District 102 - Biography as of 5/22/15

Pete Lopez was first elected to the Assembly on November 7, 2006. Born in Miami, Florida the son of Pedro Lopez of Camuy, Puerto Rico and Barbara Skiff of Schenectady, NY, Pete's family moved to New York when he was an infant. Raised in a working class family, Pete learned the value of hard work, the importance of education, and the advantages of living in a small, rural town. Pete scrubbed floors, stocked shelves, baled hay and scraped fish in order to finance his education.

Pete graduated with honors from Schoharie CSD, SUNY Cobleskill, and SUNY Albany. He holds a Bachelor's Degree in Public Affairs with a minor in Environmental Studies and a Master's Degree in Public Administration. After receiving his Bachelor's, Pete secured a position with the NYS Senate and was elected as a Schoharie Village Trustee at the age of 21. While pursuing his Master's, Pete continued his full time work with the NYS Legislature as the Associate Director of the Senate Agriculture Committee (Senator John R. Kuhl, Jr.), Assistant Director of the Legislative Commission on Rural Resources (Senator Charles D. Cook), District Office Director (Assemblyman John J. Faso) and Executive Assistant (Senator John J. Bonacic). Simultaneously, Pete was elected to additional local offices including Schoharie Town Councilman and Schoharie Town Supervisor/Schoharie County Legislator. During this period, Pete was appointed to the NYSAC Statewide Transportation Advisory Committee and the Association of Towns' Statewide Legislative Advisory Committee. After 21 years of service to the State Legislature and 12 years as a local official, Pete was encouraged to seek the position of Schoharie County Clerk, a position he held for 3 years prior to becoming a NYS Assemblyman. Through these experiences, Pete developed a unique leadership style that has enabled him to effectively connect with his community and serve as a NY State Assemblyman for 8 years. In 2014, Pete was elected to his 5th term, running unopposed as a result of his service and presence throughout the seven counties he represents.

A strong advocate for volunteerism, Pete has served as an altar assistant trainer, cantor and lector, Red Cross water safety instructor, youth soccer director and coach, youth ski club advisor, black belt karate instructor, Eagle Scout project advisor, community pool and main street committee chairman. He has also been a member of an advisory committee on runaway and troubled youth, Boy Scout council executive committee, community band, county Farm Bureau and Kiwanis. Pete also established a local chapter of Habitat for Humanity and served on the boards of a local hospital, county chamber of commerce, college foundation and college alumni association.

Pete has been honored with numerous awards throughout his career, including Distinguished Alumni Awards from Schoharie CSD, SUNY Cobleskill and SUNY Albany, Eagle Scout, the State University of NY's Golden Anniversary Chancellor's Recognition Award, the NY State Masons' General Douglas MacArthur Award for Service to Youth, the Schoharie County Chamber of Commerce's Leader of the Year Award, the David Williams Award for Preservation of Freedom, the Forty Under Forty Rising Latino Stars Award, and the Times Journal Star of the Year Award in recognition of his efforts to help with recovery from the devastation of Hurricanes Irene and Lee.

While meeting his responsibilities in Albany, Pete also travels approximately 1,000 miles a week in his biodiesel Jeep to respond to the needs of his constituents across 7 counties. Pete continues to address flood recovery issues (recently securing an unprecedented agreement with NYC to use the Gilboa Dam for flood control), helping create jobs throughout his district and beyond, supporting children, families, teachers, and schools as they struggle with the Governor's Common Core and APPR, supporting family farms, while defending the rights and dreams of all Americans regardless of race, socio-economic status, and/or gender. When asked what motivates him, Pete simply responds, "I love my community and am driven to improve the quality of life for everyone I can. Although challenging, and time consuming, I do my best to fulfill this goal each day."

Pete lives in historic Schoharie with his wife and committed partner, Bridget, who shares his passion for serving others. Find Assemblyman Pete Lopez on Facebook and visit his websites in the NYS Assembly and Lopez4ny.com.